Fresh water is extremely rare
MegaGroup brings water to life; from scarcity to sustainability
Only 0.01% of global fresh water is accessible and renewable. Currently, 2.3 billion people are faced with water stress and 25% of people do not have access to safe drinking water. Climate change will only accelerate the scarcity and decreasing quality of water. The effects on humanity and the economy are severe. That's why we have to sustainable.

Want to know how we do sustainable business as an organisation?
Sustainable company
Do you want to join us?
A career at MegaGroup will mean you'll grow beyond your current aspirations
MegaGroup has the family feeling of a mid sized company combined with a global reach. Working with MegaGroup gives you international perspective, as well as the space to be entreprenuerial.
Vacancies
Most of the positions within our team are currently filled with enthusiastic members. But feel free to see if there's a vacancy that appeals to you.
Working at MegaGroup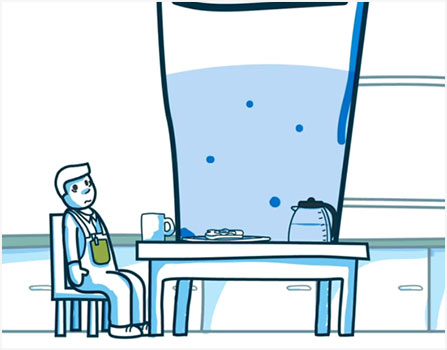 How much water do you think your breakfast cost? and were does all this water go to?
Watch our video!
You can find us all over Europe
An overview of our sales organisations and the countries they cover
Bevo Vertriebs GmbH
Bosta België NV
Bosta B.V.
Bevo Nordic A/S
Bosta UK Ltd.
Bevo Sp. z o.o.
Bevo International
Liquipipe GmbH
Aquadrip AB
Reber GMBH
Plimat (UK) Ltd.
Epco Ltd.
Bevo Vertriebs GmbH
Industriestrasse 18
32602 Vlotho-Exter
Germany
T: +49 5228 959 0
Bosta België NV
Kortrijksesteenweg 204
9830 Sint-Martens-Latem
Belgium
T: +32 (0)9 216 28 28
Bosta B.V.
Doornhoek 4205
5465 TG Veghel
Netherlands
T: +31 413 - 323 929
Bevo Nordic A/S
Pakhusgården 54
5000 Odense C
Denmark
T: +45 66 19 25 45
Bosta UK Ltd.
Reflection House, The Anderson Centre
Olding Rd
Bury St Edmunds IP33 3TA
United Kingdom
T: +44 (0) 1284 716 580
Bevo Sp. z o.o.
str. Bukowska 16, Wysogotowo
62-081 Przeźmierowo
Poland
T: +48 61 641 41 02
Bevo International
Doornhoek 4205
5465 TG Veghel
Netherlands
T: +31 413 747 300
Liquipipe GmbH
Siemensweg 4
70794 Filderstadt
Germany
T: +49 (0) 711 / 995 855 – 70
Aquadrip AB
Illervägen 7
352 45 Växjö
Sweden
T: +46 470 71 81 91
Reber GMBH
Gottlieb Daimler str. 2
67227 Frankenthal
Germany
T: +49 (0) 6233 377 20
Plimat (UK) Ltd.
7 Newmans Copse Rd, Totton,
Southampton SO40 9LX,
United Kingdom
Epco Ltd.
Cross Green Industrial Estate,
Felnex Square, Leeds LS9 0ST,
United Kingdom