As part of MegaGroup's financial strategy, an affiliate of Sun European Partners, LLP, is to acquire MegaGroup and their affiliated companies, after 8 years of being owned by Nimbus Hands-On Investors. Sun European will support MegaGroup in their growth strategy, both organically and inorganically.
Accelerate growth
In the past years MegaGroup were able to achieve their considerable growth ambitions, also thanks to the supporting role of Nimbus Hands-On Investors. As part of the financial strategy, MegaGroup will be acquired by a new investor, namely Sun European. Sun European is committed to the Benelux market where (through its affiliates) it currently already invests in a number of companies and continues to seek new opportunities. It is Sun European's goal to help further grow MegaGroup, both organically and inorganically.
MegaGroup's strategy will not change
Sun European supports MegaGroup's strategy and will guide MegaGroup to the next growth phase. Nothing will change in the corporate strategy or day-to-day business. If anything, customers will profit from the new guidance and experience of Sun European. The MegaGroup companies will continue to sell water equipment from their local sales offices. All customers are be supplied from the sustainable distribution centers in Europe.
Corporate sustainability
To decrease and eventually net-zero the carbon footprint, MegaGroup is actively working on sustainability. Introducing smarter and more efficient water solutions, but also by changing packaging materials and recycling products. This is all part of the 5-year strategy of MegaGroup, which is supported by Sun European.
More about Sun European Partners, LLP
Sun European Partners, LLP is a leading private investment advisory firm, focused on partnering with outstanding management teams to accelerate value creation. Since 1995, affiliates of Sun European have invested in approximately 500 companies worldwide with revenues in excess of €40 billion across a broad range of industries and transaction structures. The Firm has built a reputation as a trusted partner, recognised for its operational experience. Sun European focuses on defensible businesses in growing markets with tangible performance improvement opportunities in the Business Services, Consumer, Healthcare, Industrial, and Technology sectors. Sun European Partners has offices in London and affiliates with offices in Boca Raton, Los Angeles, and New York.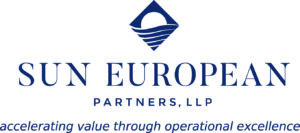 The acquisition is subject to required anti-trust approvals and the completion of a works council consultation process.