Our European Distribution Centre
We place extreme importance in satisfying the over 20,000 customers we have around the world. They are our eyes and ears in the field. As we seek to provide the best quality products, information and services at a great value, we regularly measure their satisfaction with our products and our relationship. In this way we know whether we are living up to our expectations.
In the European Distribution Centre in Veghel, we have more than 16,000 different products in stock, and our efficient systems mean we ensure all our customers receive their products in a fast way.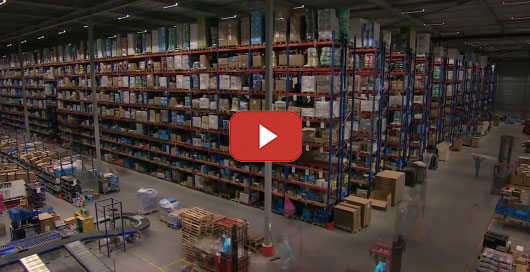 Efficient logistics
The construction of our European Distribution Center in Veghel has a surface area of 11,000 m2, 18,000 pallet locations and 10 loading docks. A roofed outdoor space of 3,300 m2 offers additional storage capacity. The smart and state-of-the-art warehouse infrastructure ensures quick and semi-automated order processing, which means that we are better able to fulfil the wishes of our customers.
Safety
Our ware house has not only a state-of-the-art infrastructure, it also meets the highest standards in terms of safety. Employees are trained and well instructed how to act within our EDC. Every day focus lays on the safety of them and our visitors.